---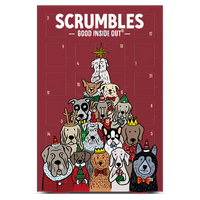 Scrumbles Dog Advent Calender
Fill your pup's holiday season with excitement! The Scrumbles Dog Advent Calendar features three different treats that are not only lip-lickingly yummy, but also come with added prebiotics to keep your furry friend's tum feeling festive all season long! Woof! Behind each of the 24 windows, you'll find 2-3 different gluten free dog treats with functional benefits like calming. Suitable for dogs and puppies from 8 weeks old.
What's Inside Our Advent Calendar For Puppies and Dogs?

Gnashers: Dog Dental Sticks 
Baked to a crunch, with active ingredients to fight plaque and naturally plant-based so low in fat, these dog treats will keep help keep your dog's gnashers gleaming. 
Chicken Nibbles
Made with natural ingredients and no added sugars or salts, these meaty bites are naturally delicious. Made with tasty chicken for an irresistible treat.
Nibbles Calming Dog Treats
Christmas can be a stressful time for our pooch's.  The Calming Dog treats are carefully designed with turkey, chamomile, and lemon balm for a stress-free Christmas. 
Chicken Softies: Dried Chicken* 26%, Oats* 19%, Chickpea* 15%, Glycerine 15%, Sweet Potato* 8%, Poultry Fat 5%, Duck dried* 4%, Pumpkin* 4%, Linseed* 1 %, Chia Seeds* 0.5%, Slippery Elm Bark* 0.1%. Nibbles: Dried Turkey* 30%, Chickpea* 30%, Sweet Potato* 30%, Rapeseed Oil* 8%, Lemon Balm* 0.5%, Chamomile* 0.5%, Slippery Elm Bark* 0.1%, Glucosamine* 0.1%. Chicken Bites: Chicken 60%, sweet potato 14.25%, potato 14.25%, vegetable glycerol 10%, blend of organic acid and minerals 1.5%, slippery elm 50mg/kg"